Posted in
blog
Tagged

Arigon, Arigon Starr, Autry, Autry National Center, Blud Kwan'Tum, Indigenous Narratives Collective, Native American, Native American Comic Book, Native American Indian, Native Comic Book Workshop, Rezium Studios, Super Indian Issue #5, Wacky Productions Unlimited
Leave a comment
Welcome, Laguna Woman!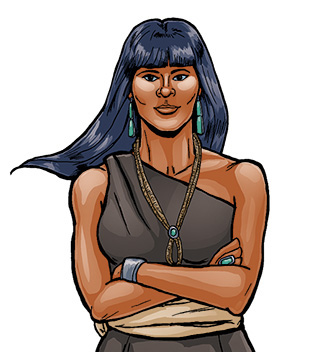 We just posted her image on Facebook a day ago — and she's already getting notice.
If you've been following the storyline of "Super Indian Issue #5 – The Curse of Blud Kwan'Tum," you'll be familiar with Phoebe Francis. She's about to make a big transformation and — well, you'll have to keep coming back on Mondays to check out what happens.
We're excited that the folks at PowWows.com were so intrigued they featured "Laguna Woman" on their website today. Check it out here:
Posted in
blog
Tagged

Arigon, Arigon Starr, Blud Kwan'Tum, Laguna Pueblo, Laguna Woman, Native American, Native American Comic Book, Native American Indian, Phoebe Francis, PowWows.com, Rezium Studios, Shayai Lucero, Super Indian Issue #5, The Curse of Blud Kwan'Tum Part 1, Wacky Productions Unlimited
Leave a comment
We are super excited to be bringing members of the Indigenous Narratives Collective to the Autry National Center in Los Angeles. On Sunday, October 6th from 1-3pm, Arigon Starr, Lee Francis IV, Jonathan Nelson and Theo Tso will be on hand to tell folks about their experiences creating Native comic books and help interested community members learn how they can tell their own stories in comics or graphic novels. Here's the flyer — we hope to see you there!